Amaya Gaming Casinos
Amaya Gaming is a software provider based out of Canada, although today, it boasts offices in locations all over the world, including in both North and South America, and throughout Europe. Amaya Gaming are perhaps best known as the owners of Fulltilt poker and Poker Stars – acquisitions that they made just a couple of years ago for a reported $5 billion, which incidentally made the company the biggest publicly traded online gambling entity in the world.
We will look more at that takeover, and Amaya Gaming's extraordinary rise to power shortly, but first we're going to look at some of the software providers different games, available at various online casinos.
Best UK Amaya Gaming Casinos & Bonuses
Slots
Amaya Gaming offer a tremendous range of games in a number of different gaming categories, and if you've ever played an online slot, casino table game, or video poker title, there's a very good chance you will have played one of Amaya's games, even if you don't realise it!
Recently, Amaya Gaming have begun making most of their games available to mobile players, and, in an attempt to keep up with other software providers, like NetEntertainment and Microgaming, who are paving the way for mobile optimised gambling, Amaya Gaming have partnered up with other software providers to distribute their games under the Amaya brand.
One such example of this, is Amaya Gaming's partnership with Aristocrat games, which has seen Amaya publish slots, including Let's Go Fishing, Pompeii, and Wild Panda, under the Amaya Gaming brand. These games are actually created by Aristocrat, but the unique partnership agreement saw Amaya Gaming acquire the rights to develop the slot for online use (Aristocrat made the game's popular in land-based casinos, inside machine cabinets), and this is just one of the ways in which Amaya have broadened their deliverability.
Amaya Gaming offers a tremendous range of Video Slots, and one of the most notable aspects of their slot development, is the diversity between games. This is seen both in terms of the game themes themselves, as well as the in-game functions, which consist of bonus rounds and gameplay.
While the majority of Amaya Gaming slots feature either a free spins or bonus game, some of their titles are a more classic approach, including one-lined classic slots and it's a pretty safe bet to say that Amaya Gaming will have developed a slot game that you can enjoy.
Gulliver's Travels
One of Amaya Gaming's most popular Video Slots is a Gulliver's travels, which is, of course, based upon the popular children's novel. This exciting title immerses you in a world of extravagant audio effects and graphical design, and a stunning backdrop are companies every spin.
Licensed games are another key part of the Amaya Gaming development strategy, and at one point they held an exclusive licence with DC comics, which saw the release of themed slots like Batman and Superman.
Shark Bite
Shark Bite is one of the software providers less well-known games, but a few recent online casino promotions have seen the game grow in popularity, as it was featured in a couple of free spins giveaways.
This title it centred all around – well, you don't have to be a genius to figure that one out – and the game only reaffirms what the Jaws film trilogy taught us – sharks are nasty creatures, and should be avoided at all costs. But, If you have the chance to defeat the sharks (albeit by winning money off them on an online slot machine), then why not?
Other Slots
Other popular games include Surf's up, Space Invasion, and Silence Screen – the latter of which is based all around Charlie Chaplin and the magnificent world of film in the 1920s. One of the things that Amaya Gaming are often credited with, is the variety between their games – and we touched on this a little earlier in this article, but it's important to recognise just how creative the software provider really is.
For example, other software providers simply rehash old, common, overplayed ideas – Irish/Leprechaun themed games are a classic example – and while Amaya Gaming do have a few games that fit into these "common categories", the majority of the games released differ lastly from previous titles, and whether it's pirate themed games, intergalactic experiences, or medieval fantasy games, the software provider has shown incredible intuitiveness and creativity; something that should be noted.
Table Games
Amaya Gaming are prominent within both the Video Slot development market, and the casino game market, and they currently offer over 20 different Roulette variations to players around the world.
Roulette
While their Roulette titles perhaps aren't quite as creative as some we've seen from other software providers, they do offer a wide range of variety, and of course, while you'll find the classics – European Roulette, American Roulette, and French Roulette – you will also find some more unique, less common Roulette games, with one of the most popular being Mini Roulette.
Mini Roulette plays almost identically to regular Roulette, with one key difference; there's only nine numbers! The Roulette wheel itself is tiny, and features 10 numbers; one through nine, and then zero. The game board is also a miniature version, and allows you to place bets either on the number straight up, or on red/black, odd/even, and hi/Lo. It really is just the same as regular Roulette, with the addition at it is a smaller version.
Another popular Roulette game from Amaya Gaming is the Pro version of their European, American, and French Roulette games. This game version offers players a few additional betting options, which most notably includes additional French section bets, and traditional betting areas that aren't available on regular, common Roulette games. The graphics are also a little more distinct in the Pro versions, and in some online casinos, the betting limits are a little higher, which is to allow the high roller players to let loose.
Blackjack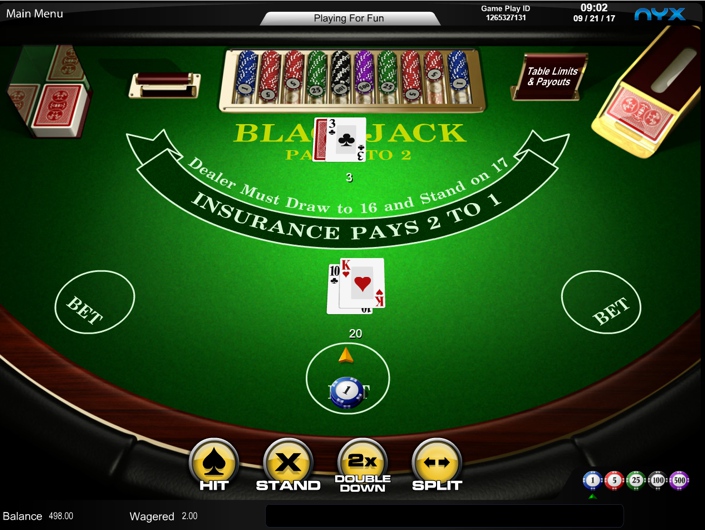 Amaya Gaming is also well-known for their Blackjack games, and while their Blackjack range is not quite as varied and vast as their Roulette range, they offer over 15 Blackjack games to players. Although like Roulette, not all games will be available to all players, due to licensing restrictions, and casino management decisions.
Amaya Gaming offer a few forms of regular Blackjack, including Low Limit Blackjack, which allows you to place bets from as little as 50p per hand, and High Limit Blackjack, which features a minimum bet of £5.
Almost all of the Blackjack titles from Amaya feature around European rules, and this means that dealers stand on all 17's, and only draw one card for players make their action. It's rare to see insurance offered in any of the Blackjack games produced by Amaya Gaming. You will find this in a couple of versions, however – most notably in single deck Blackjack, which is one of the software provider's most popular games.
Perfect Pairs Blackjack
Amaya Gaming also offer a Blackjack perfect pairs game, and if you're not familiar with this variation, it's one of the most common you'll find in land based casino in the UK. For an additional sidebet – which usually starts at a minimum of £1 and a maximum of £200 – you can place a bet on your first two cards being the same. If, for example, you were dealt a seven of hearts, and a seven of spades, you would be paid out at 5:1, as your first two cards with the same value, but different suits and colours.
If your first two cards dealt are of the same value, but different suit, but same colour, you get paid at 10 to 1, and if your first two cards are exactly the same – the same colour and suit – you'll be paid out at 35:1, so it's relatively easy to see how profitable this game can be. That said, however, like most Blackjack sidebet games, in the long run, the casino's house edge will be fairly significant.
Live Dealer Games
Amaya Gaming now offer a Live Casino, which is available at the majority of online casinos featuring their games. While we are yet to see any live dealer games, Amaya Gaming do offer automatic Roulette. So, while it's not exactly a Live Dealer Casino, it is live gaming in the sense that you can see – in real time – what's going on.
It's likely that we will see the Live Casino side of their business grow in the next couple of years, and as players look more to live gambling, as opposed to virtual, flash-based gaming, the software provider would be foolish not to take advantage of this popularity growth. In the meantime, however, they look set on continuing to develop their impeccable range of slots and table games, and only time will tell what happens.
Video Poker
Amaya Gaming offer a number of Video Poker titles for you to enjoy, and while Video Poker may be nowhere near as popular as it once was, it is still a game that many players like to enjoy, particularly, as it's a more relaxing, and less volatile way to enjoy Poker (rather than actually playing Poker itself).
Amaya Gaming offer a fairly generalised selection of Video Poker titles, and they're the type of games that you'll see from the majority of software providers. Joker Poker is one of their most popular video Poker titles with Deuces Wild Poker (as pictured here to the right), and Jacks or Better two more varieties the software provider have to offer.
In terms of originality, the only Video Poker game that really stands out is the Challenge Poker game, which offers a unique take on traditional Video Poker by offering you the chance to play up to 100 hands at once with the addition of a gamble feature. The gamble feature allows you to double or quadruple your initial win by selecting a playing card from the one on screen. Pick correctly, and your win will be multiplied by the odds you decide to take, whereas if you pick incorrectly, you lose.
Jackpot Games
Millionaire's Club
In terms of their progressive jackpot slots, you will find Millionaire's Club by far their most popular offering, and with a minimum jackpot of £100,000, it's not hard to see why.
Rags to Riches is another of their well-known jackpot games, and while it's often compared to Marmite (some players love it, while others hate it), this classic, one-lined video slot also features a minimum jackpot of £100,000 – although it's not uncommon to see this figure rising threefold.
Amaya Gaming don't just offer jackpots on their slot games however, and they offered two different casino table games with jackpots. The first is their Casino Stud Poker progressive, and this game features a minimum jackpot of at least £60,000. All you need to do in order to win is place the relevant side bet, and hit a Royal flush. Just have a think about what 60 grand would buy you!
Like most software providers, Amaya Gaming run their jackpot games on a pooled basis, which means that the jackpot figures are shared amongst all of the casinos running the game. While this does mean that there is more competition for the jackpot, it also means that many more players are playing the game at any one time, which ensures that the jackpot amount arises quicker, so it's generally beneficial to players.
About Amaya Gaming
Year Founded: 2005
Owner: David Baazov (resigned)
Publicly Traded: Yes
History
Amaya Gaming have been around for just over 10 years, and despite the fact that this could be seen as a relatively short period of time when compared against some of the bigger players in the online gambling world, Amaya Gaming are now the biggest publicly listed online gambling company in the world, and they are worth billions of pounds!
While the company's early life is generally relatively un-significant, around six years ago, when they first begun developing online casino games, they experienced fast and unexpected growth, and many players found their games to be superior both in terms of build and pay-out potential. The company grew fast, and today has offices all around the world with headquarters in Toronto, Canada, and other staff members located in North America, Latin America, Europe and Asia.
The company's journey hasn't been fully straightforward, however, and in 2016, the company's CEO at the time, David Baazov, was arrested by Canadian authorities on multiple charges of securities fraud. Baazov then went on to take a leave of absence from the company, and resigned in the summer of that year. The software provider then had a few months of unpredictability until it managed to stabilise again with the inclusion of a new management team.
One of the major turning points in the company's life within 2014, when they agreed to purchase Poker Stars and Full Tilt Poker for a whopping $4.9 billion. The move brought Amaya into the public spotlight, and many players who had never heard of the company, were now inundated with references by news agencies and dedicated gambling sites.
With a major emphasis being placed on mobile gambling, Amaya continue to develop their game range, broadening their desirability to players around the world. A recent decision, on 12 May 2017, saw Amaya Gaming announce a name change, and later in the year, they will be known as the Stars Group Inc. Their headquarters will also be relocated to Toronto, possibly due to confusing and potentially damaging legislation surrounding gambling in the United States (where their headquarters were previously based).