Play 'N Go Casinos
Play 'N Go are one of the world's leading suppliers of casino games and their titles can be found at virtually all online casinos. This is all thanks to the popularity of their games with players, as well as the reliability of the games themselves.
Despite being best known for the video slots, Play 'N Go have actually built a portfolio filled with games in different categories, and in this post, we're going to look at some of these categories, as well some of the specific games that Play 'N Go have created. We will also take a look at the history of the company, and where it is likely to be headed in the coming months and years.
Best UK Play 'N Go Casinos & Bonuses
Slots
Play 'N Go spend a huge amount of time optimising their games to ensure players rarely experience any crashing or freezing while playing. So, if you have ever played one of their titles before, you will know that it's very rare if things go wrong. This is just one of the reasons why the games are so popular amongst players and, of course, the gameplay itself is yet another driving factor.
All of the games are available to enjoy in instant-play mode, which means they pop out in your Internet browser and there is no need to download or install any programs to get started. Let's begin by looking at some of the video slots the developer has created.
Play 'N Go have created some of the most successful video slots in history, and millions of players have enjoyed spinning the reels, thanks to the high payouts on offer, and the reliability of all the games. Below, we are going to look at some of the most popular slots created by Play 'N Go.
Book of Dead
Book of Dead is arguably Play 'N Go's most popular slot released to date, and while it is essentially a clone of Novomatic's Book of Ra, overall, the game is actually cited by many players as being their preferred choice of the two, and inside this action-packed game, you will join the famed explorer, Rich Wilde, as he searches for treasure in one of Egypt's long-lost pyramids.
The base game itself doesn't offer anything too spectacular, and there aren't any randomly-triggered bonuses or anything to that effect. However, where the game really shines through is with its free spins bonus, which is awarded when you manage to land three, four, or five of the scatter symbols anywhere in view. Do this, and you will be awarded with 10 free spins, along with one of the game symbols randomly chosen as a "special symbol".
Now, anytime three or more of the 'special symbols' land in view (their positioning on the reels is irrelevant) they will expand to fill the entire reel, guaranteeing you at least 10X three-of-a-kind win-lines. Hopefully – if you can land four of five of the 'special symbols' – you could get 10X 4-of-a-kind or even 5-of-a-kind paylines. It is possible to retrigger the feature an unlimited number of times and players have reported wins as high as 10,000X their stake, so there's good reason why this has become one of Play 'N Go's most popular slots.
Super Flip
Super Flip is a lot like Marmite – some players love it, whilst others hate it. The game is pretty simple at first glance, and it is generally coined as being low-variance, but that doesn't mean that big wins can't be inside the bonus round. What's interesting about Super Flip, is that it benefits from a re-spin feature. So, if the first two reels are stacked with identical symbols and the third reel doesn't contain this symbol, the first, second, fourth, and fifth reels will lock in place. Then while the third reel re-spins, you are given a second chance to land winning symbols.
There is also a bonus round, which is triggered by landing three, four, or five of the scatter symbols anywhere in view. When you manage to do so, you will be taken to a new set of reels, where the game board actually flips around, so that the higher-paying symbols are on the first two reels, as opposed to the latter two. It's possible to re-trigger up to 200 free spins, and while it's quite volatile, in terms of whether the bonus round pays out or not, if you can get lucky and hit a few high-paying re-spins, you can easily walk away with upwards of 500X your stake.
Other Notable Slots
Other notable slots from Play 'N Go choose both include Seven Sins, which is a game that is centered around the seven sins of mankind, alongside beautiful women. There is also Hugo, which is a game based on the famous Scandinavian television show from the 1970s.
Hugo, as pictured in this section, is popular thanks to its two bonus rounds that are relatively easy to trigger, and while one is a relatively simple free spins bonus, the second (called the 'Chest Bonus') sees you attempt to make your way through a number of doors in order to try and reach the treasure chest. Do this and you will be awarded with up to 1000X your stake!
Table Games
Play 'N Go aren't just well-versed in developing video slots, however, their table game range is exemplary and features cutting-edge design, reliable gameplay and a varied fixture of titles. Below, we are going to look at three categories that the software provider has developed games for, including: Roulette, Blackjack and Video Poker. It's worth noting that Play 'N Go also create games that don't fit inside these categories. For example, the company also develops a number of great Poker-themed games.
Roulette
Roulette is one of those games virtually every software provider will have in their game portfolio, and the reason for this is clear. This classic game of chance is the world's most played casino game, and for the majority of casual players, Roulette is what many people look to play. Because of this, we've seen many software providers be incredibly intuitive with their Roulette games. Whether it's Multi-Wheel Roulette, Progressive Jackpot Roulette, or Live Roulette, there appears to be no boundaries when it comes to combining creativity and Roulette.
Play 'N Go are in the 'mid territory' when it comes to Roulette, and while you won't find them releasing game after game, featuring new 'gimmicks', they do have a robust selection of four titles. While it's not the biggest game range we've seen, it's enough to satisfy the playing requirements of most players.
Play 'N Go offer two 'regular' versions of Roulette, much like European and American Roulette, to slightly less common and more unusual games, such as their French Roulette– one that still fairly common, but not played by a huge number of players. French Roulette offers a selection of different betting options, and most notably offers a decreased house-edge, which results in better odds and probability for those playing it. While the decrease in house-edge may appear minimal over time, it certainly adds up and it's always recommended to play French Roulette should there be one available.
It's also worth pointing out that the graphics in Play 'N Go's Roulette games are exemplary, and as the games are all developed using HTML5 technology, players can enjoy the games from both desktop computers/laptops, as well as mobile devices. This is because HTML5 technology eliminates the need for Adobe Flash, which means that mobile players can now take advantage of the games. Overall, Play 'N Go aren't overly-recognised for their Roulette games, however, it's clear that they work hard to maintain the game range, and it's likely that in the future, we will see even more Roulette variations from their developers.
Blackjack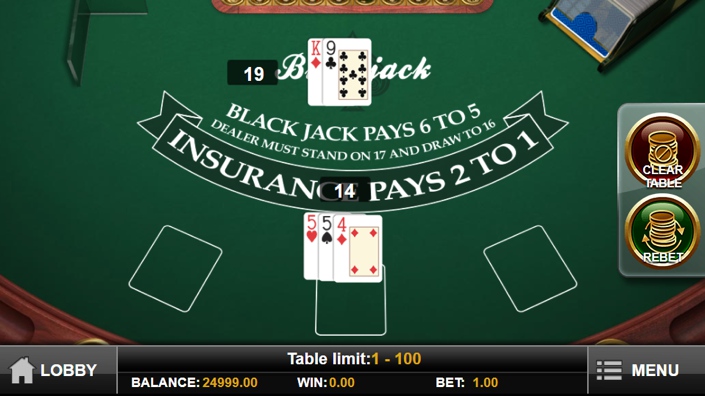 Blackjack is by far the world's most popular card game, and every day, millions of Blackjack hands are dealt around the world, both in land-based casinos, as well as on online gambling sites. As one of the biggest software providers on the planet today, Play 'N Go wouldn't be complete without a premium selection of Blackjack games. That's why they've dedicated a huge chunk of their time and resources to build and maintain a number of exciting and high quality Blackjack titles, which are available to players around the world.
It may come as somewhat of a surprise to players familiar with Play 'N Go that the software developer is not known for their Blackjack games. You'll soon realise, however, that Play 'N Go produce a fairly substantial number of games and there's a pretty good chance you will have already played one yourself, as they're featured in a relatively large number of online casinos today.
In terms of their actual Blackjack titles, you'll find a fairly standard range and perhaps what some players would refer to as 'boring' variations, such as European Blackjack and Multi-Hand Blackjack. There is one variation that really stands out, however, and is far more innovative than what players are used to. This title is called Blackjack Switch, which is aptly named, as the game allows you to switch cards between two different hands. Of course, there is a caveat to this fairly overwhelming advantage. First of all, you must play two hands instead of one, so you are essentially doubling your stake. Secondly, if the dealer ends up with a total of 22, the hand results is a tie, meaning you get your money but don't actually win anything.
Naturally, Blackjack Switch is a game some players will love and some will hate, but regardless of your stance on these gimmicky-variations of the classic card game, it's evident that Play 'N Go are quite passionate about the development of their games and will stop at nothing to ensure that players can enjoy an incredibly wide range of their titles.
Live Dealer Games
Play 'N Go do not currently offer any Live Dealer games, and from what we can tell, they have no plans to do so in the near future. As we say with all software providers though is that this could always change, so be sure to check back every once in a while to see if there have been any Live Dealer games added to their portfolio.
Video Poker
Play 'N Go offer six different Video Poker games for you to enjoy, and while you won't find anything too ground-breaking, their selection will contain the majority of titles most players want to see. This includes Jacks or Better Multi-Hand, Deuces Wild (as pictured), Deuces Wild Multi-Hand, Joker Poker, and Joker Poker Multi-Hand.
All of the games allow you to stake between £1 and £100. Additionally, all Video Poker titles come built with a gamble feature, which allows you to potentially double your wins by picking a card of a higher value than the one shown on your screen. As with all of Play 'N Go's games, their Video Poker titles are built to an extremely high level of quality and it is very rare that players report the games crashing or freezing.
About Play 'N Go
Year Founded: 2004
Owner: Digital Fish AB
Publicly Traded: No
History
Play 'N Go is one of the more passionate and inspiring of software developers to exist within the online gambling market. This self-confessing "group of geeks", initially made their livings as consultants to technological firms back in the 1990s when computers were beginning to become more mainstream, and a lot of money was still to be made in the 'Dotcom era'. Stating on their website that they "eventually realized they could pull together the talents to offer companies more entertaining and reliable software and systems", they started Play 'N Go with the goal of "delighting others, inspiring them to have fun."
Since its founding, Play 'N Go has enjoyed significant success within the online gambling industry, and now boasts a team of over 50 different staff members. Each of these members offers a unique talent with the company employing some of the best graphic designers, mathematicians, coding experts, and game-testers in the world today.
One of the main areas which the company have decided to focus on is the reliability of the games themselves, and this is shown in a mission statement on their website, where the founders of the company both admit and agree that poorly-made video slots (ones that continually crash or freeze), is extremely detrimental to a player's enjoyment while using the games. For this reason, the company spend far longer than most software providers in developing their games, putting all of the new titles through rigorous testing procedures in order to help iron out any bugs before being released to the markets.
The Future for Play 'N Go
Today, Play 'N Go games can be found in hundreds of online casinos. More recently, they have partnered up with a number of Bitcoin casinos in order to offer their games to anonymous, cryptocurrency players – adapting the games specifically to be compatible with the Bitcoin currency.
Whilst partnering up with Bitcoin casinos may not sound like it is any huge effort – indeed, many software providers already offer games to Bitcoin casinos – many of the developers that partner with Bitcoin casinos are considered illegitimate and release poor quality games. Secondly, despite it sounding overly simplistic, there is actually quite a lot that goes into building a game that accepts a different currency. Developers have to change individual pay line payouts, ensuring players' balances are accurately reflected on screen, and with much of this being part of the game's core coding, it means that the entire game must be metaphorically opened up and checked. Aside from that, Play 'N Go continue to focus on releasing new games, and they are also working on expanding their mobile gambling reach, securing new partnerships with casinos, and developing new games specifically for mobile players.
It's unclear exactly what direction the company will take in the next few years, but given their technical background, it's likely we will see the company continue to focus on developing reliable games, choosing to release titles on a quality, over quantity ethos.