Cryptologic Casinos
Cryptologic is one of the longest serving casino software providers on the market, having been initially founded back in 1995. After a rocky start, the software provider has gone from strength to strength, and today, is considered one of the leaders in casino software and game technology. Cryptologic pride themselves on providing a safe and secure arena in which punters can enjoy some of the most interesting, visually stimulating and modern casino games on the market.
The backbone of their success lies within the games they offer. These are all carefully designed to offer a great combination of fun gameplay and fair gaming. With cutting-edge, state-of-the-art graphics, technology, and visuals, you'll find great quality in all of their games, throughout a number of different categories, including branded slots, card games, casual games, classic slots, jackpot games, multi-player games, table games, video poker and video slots.
Each year the company aim to add at least 20 new games to their already impressive portfolio, and regardless of the game category, they're all built to the extreme high-quality that players have come to expect of Cryptologic.
Best UK Cryptologic Casinos & Bonuses
Cryptologic Games
The Cryptologic games are rated so highly for a reason; they're built using state-of-the-art technology, and have only the best developers, coders, graphic designers, and gambling experts work on their construction. Game variety, design, security, support, innovation, marketing, features and great bonuses all combine to make it one of the leading software providers in the world today.
Cryptologic are well-regarded within the game development world, both for the look, feel, and style of their games, and the technology that they implement into them. Below, you'll see some of the most popular video slots the developer has created:
Slots
Cryptologic are pioneers in developing and creating video slots, and many of their titles have helped pave the way for other software providers.
Millionaire's Club
One of the most notable titles is Millionaire's Club – one of the first Cryptologic slots to feature a progressive jackpot. This exciting game uses a slightly older, more traditional look to it, but it works incredibly well, and, despite the lack of 3D Graphics, has become a hit game for players around the UK.
Siberian Siren
Looking at some of the more modern games the developers have produced, Siberian Siren is perhaps one of the most popular, and this Arctic-set slot transports you to the cold planes of Siberia, where you must battle it out alongside various ancient creatures to try and secure the treasure.
Fantasy Themed Slots
Cryptologic appear to like using fantasy-like themes, and this can be seen in a number of their other video slots, including 20,000 Leagues, Diamond Tower, the Zombies, Blackbeard's Gold, Pints and Pounds, and Gulliver's Travels, as pictured in this section.
Table Games
Cryptologic are probably known to most players as creators of video slots, but they actually have developed a large number of casino table games, ranging from Roulette and Blackjack, to Video Poker and more. These games have helped cement the software provider into the company they are today.
Roulette
Roulette is one of the most important games software provider can add to their portfolio, and this is due to the fact that, despite the popularity of Video Slots and progressive Jackpot Games, Roulette is still the most commonly played casino game on the planet. Almost all game developers offering their own roulette variation, so it makes complete as to why Cryptologic have their very own Roulette game range.
Now, while their Roulette range isn't as varied and diverse as some of the other big-name software providers, the titles they do offer are well built and reliable. They offer a few standardised versions of the game, including European Roulette, American Roulette, French Roulette, and Roulette Pro – the latter of which is centred around European Roulette rules, but with slightly different betting options and stake limits.
There are also a couple of VIP tables, which essentially are just the same as regular Roulette with the addition of a fancy name. There are, however, generally higher table limits on these games, which, of course, caters to the higher-staking, high-roller players who like to enjoy nail-biting action on every spin. While it would have been nice to see more creativity in Cryptologic's Roulette games, the games they do produce are of an extremely high-quality and also boast reliability – something that is more important than ever, especially as mobile gaming takes over the market.
Blackjack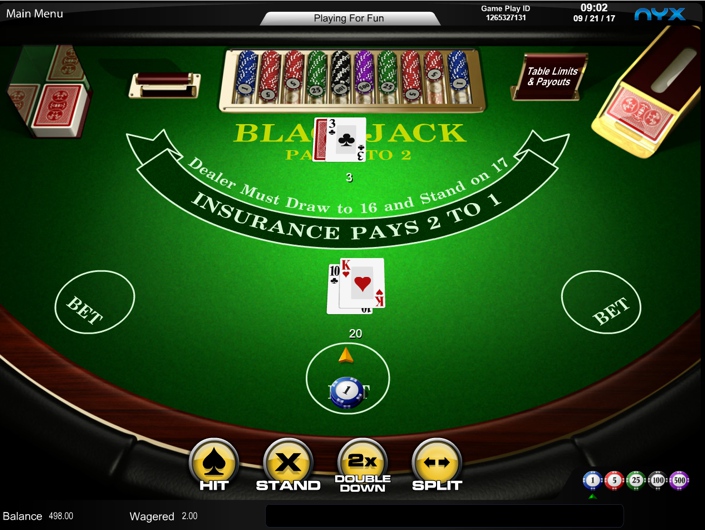 Cryptologic may be known for their premium range of Video Slots, but as we just saw with Roulette, they are also well-versed in developing casino table games. Their Blackjack game range is no different. Comprised of over 10 different titles, you'll find everything from classic European Blackjack to more obscure and less common titles, which allow you to experience the same high-quality game levels you've come to know and love.
For example, One Deck Blackjack – otherwise known as Single Deck Blackjack – is just one of these alternative Blackjack variants on offer, and as the name suggests, this game is played just one deck, which actually reduces the house edge and allows you slightly more control over the hand actions you take.
No matter which game you decide to play, it should be relatively obvious by now that all of the games are built to the same high standards and the reliability – both on desktop computers and mobile devices. It's just one of the reasons why Cryptologic's titles have become so popular with players today.
Live Dealer Games
Cryptologic don't currently offer a Live Dealer Casino, and it's pretty unlikely we'll see one emerge from the software provider, at least for the time being. While Live Dealer Games are more popular than ever, Cryptologic have never been a big advocate of casino table games in general and the titles they have produced have likely been more to "keep players happy" than to actually showcase their talents and passions.
Compare that to Video Slots, for example, where it's evident that the software provider takes great pride in their work – it's clear that this is their area of expertise. Plus, many of the software providers that Cryptologic integrate with – Playtech, to name one – feature their own Live Dealer Casinos, so there's likely a fair amount of pressure on the software provider not to think about getting involved.
Video Poker
There are just four Cryptologic Video Poker titles, which is a little on the short side, but enough to satisfy the play requirements of most players. The four games available are All American Video Poker, Deuces Wild (as pictured here), Jacks or Better and Super Jackpot. Super Jackpot is a progressive jackpot with the jackpot amount paid out to any player playing maximum coins who hit the Royal flush.
All of Cryptologic's Video Poker titles are built using the same gaming technology as the video slots – HTML5 – and this means they render in all Internet Browsers, and can be played on mobile devices too.
Jackpot Games
Cryptologic offer a number of progressive jackpot games – although don't expect to be overly familiar with any of the titles. That's because they're generally lesser-well-known games. So, whilst the jackpot amounts are actually quite healthy, the games themselves aren't the best and some players simply find them too boring and uncreative to play.
That being said, money is money, and Millionaire's Club – perhaps the most famous of Cryptologic's progressive jackpots – is known for a jackpot amount that can easily top half a million pounds. In fact, at the time of writing, it stands at just over £520,000 and with the minimum spin just 20p, you could potentially become a "half-a-millionaire" for less than the price of a Freddy Frog.
There are a number of other progressive jackpot Video Slots, including Hollywood Classic, Movie Mayhem, Rags to Riches, Shoot O Rama, Super Jackpot, and Hollywood Acclaimed. But interestingly, Cryptologic also feature progressive jackpots on non-video slot games, like their version of Caribbean Stud Poker. The jackpot version of this game offers a jackpot of £162,000, which is less than you'd typically see on a video slot, but more than enough to make playing the game worthwhile.
About Cryptologic
Year Founded: 1995
Owner: Andrew Rifkin & Mark Rifkin
Publicly Traded: No
History
Cryptologic was initially founded in 1995 by two brothers, Andrew Rifkin and Mark Rifkin. Astonishingly, they founded the company from the basement of their parents' house, both heavily in debt. During interviews in later years, the brothers would reveal that they continually had to lie to their parents about what the true nature of the business was, because had the parents had known they were creating a gambling related company, they would have thrown them out of the house.
Interestingly, Cryptologic was started as a payment processing system, which is something the two brothers had dreams of creating, but for whatever reason, the business took a stark change of direction. In 1996, they launched their first licensee – InterCasino. Since that initial launch, the company has gained strength, securing multiple partnerships online with various casinos. At one point, the software was used by William Hill plc – one of the largest bookmakers in the UK – and the software provider had its games licensed by both the United Kingdom gambling commission and the Alderney gambling commission.
2004 saw the software provider sign an exclusive agreement with Betfair for the launch of an exclusive online poker game, and since then, the company has continued to grow, both in strength and size, and towards the latter years of the business is life, they developed a number of poker products, and online bingo games.
In 2012, Cryptologic was acquired by the Amaya Gaming Group for a reported £27 million. The acquisition wasn't to last long, however, as they subsequently sold the entire Cryptologic operation for a reported £59 million, netting a quick profit of over £25 million.
The Future for Cryptologic
Both acquisitions saw Cryptologic handover their entire business, including software, and online gambling sites, and while Cryptologic isn't a consumer facing brand today, it continues to develop games, many of which are still released under the Cryptologic brand name. It will be interesting to see where the company is taken in the next few years, and with online gambling becoming more popular than ever before, it is likely that will see even more innovations come from the Cryptologic team.